Mapping Lab Folders or Home Directories




Most labs in the Sciences have file storage that is housed on Research Computing servers.    When your new account is created, you are also provided with the path of the lab's  file storage, which includes your Lab User folder.

Some common file servers are RCFS1  RCFS2 RCFS3 RCFS4 RCFS5 RCFS6 RCFS7  Helios

Each lab's share is usually expressed as  Name_lab where LabName is the P.I.'s last name.      So if you are a member of "Smith Lab" and that lab has space on RCFS1,   the share would look like this \\rcfs1.rc.fas.harvard.edu\smith_lab (Note the inclusion of ".rc.fas.harvard.edu" is necessary to ensure your computer can properly locate the file server on the network)

Share names are expressed differently for Mac's compared to Windows and also note the orientation of the slashes.  (back slashes for Windows and forward slashes for Mac)
If you are using A Windows computer,  the share must be expressed as    \\rcfs1.rc,fas.harvard.edu\smith_lab
If you are using a Mac computer, the share must be expressed as     smb://rcfs1.rc.fas.harvard.edu/smith_lab


Supplying your username for network storage.

Regardless of which operating system you use, the RCFS… storage servers require that you supply the login domain name in conjunction with your username.

Your username should be expressed as   rc\username  (username is whatever your own login username is)   and the password is entered without any extra characters.

The exception to this rule is when you are using an NFS file share such as file servers dedicated to individual labs or storage that is only available from Odyssey Nodes.


Directions for Windows Users
Once you have read the introductory information at the beginning of this page, you can now continue through the process of mapping your lab folder.

Right click on My Computer (or just 'computer' in windows Vista and 7)   and select Map Network Drive.  then supply the path to the share.    Supply your username in in this fashion:   rc\username   . You may need to select "Connect using different credentials"  and "Reconnect at Login."     then proceed to the next dialog, which will request your username and password.




Directions for Mac OS X Users
To connect on a Mac OS X box select Finder and then click Go > Connect to Server (or the keyboard short cut Apple+k).

Locate your file server using the technique described above and enter it as shown below: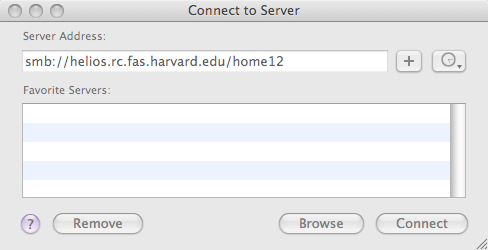 Enter your Odyssey credentials as seen below: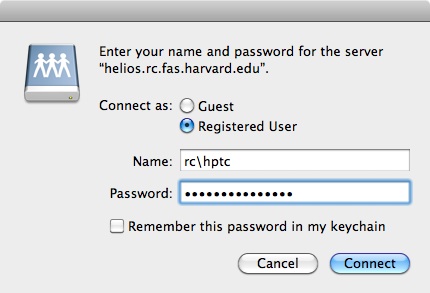 Once you click finish, you should have your directory mounted.
Figuring Out the Server and Share You Want
You'll have to identify which machine hosts your home directory or lab folder. You can figure this out by using ssh to login to Odyssey. (ssh requires an Openauth token, but a token is not required for using the storage described here. Please write to rchelp@fas.harvard.edu if you don't have an Openauth token.) Use cd to go to the directory you wish to mount on your machine and type df -h . (note the . character at the end of the command):
[hptc@iliadaccess01 ~]$ df -h .

Filesystem            Size  Used Avail Use% Mounted on

helios:/root_vdm_6/home12/share_root

                      4.0T  8.5G  4.0T   1% /n/home12
The server name is the word before ":", in the case above, helios. You will most likely need the fully qualified name, helios.rc.fas.harvard.edu. The share name is the name in between /root_vdm... and /share_root. In the case above it is home12. All the instructions below use these values in the examples. You will need to substitute htpc, helios, and home12 with the values applicable to you.


Directions for Linux Users
The GUI way
On a Linux machine, click on "My Computer". Select " Connect to server". Then Select "Windows Share" from the drop down list. Then type in your Odyssey credentials and share name. This is shown in the following sequence of images.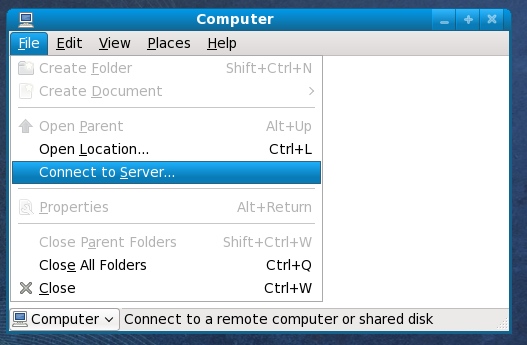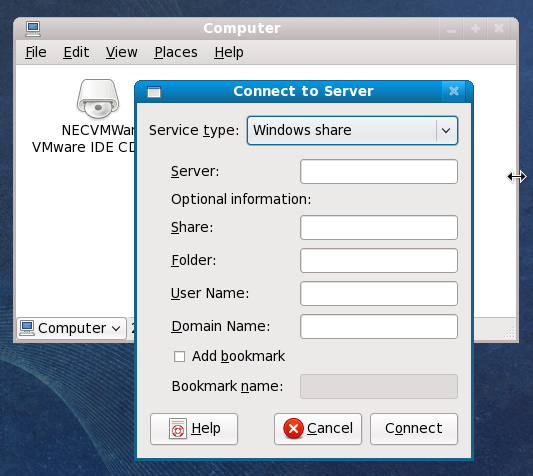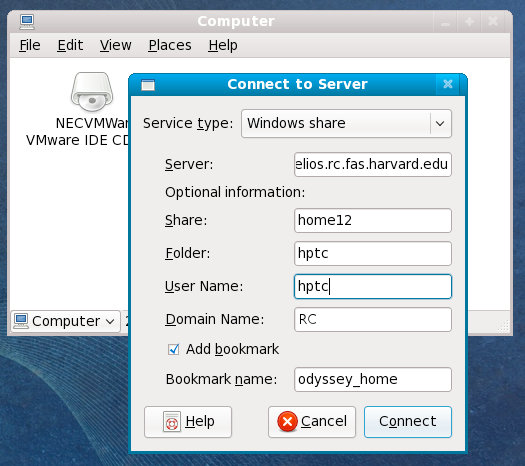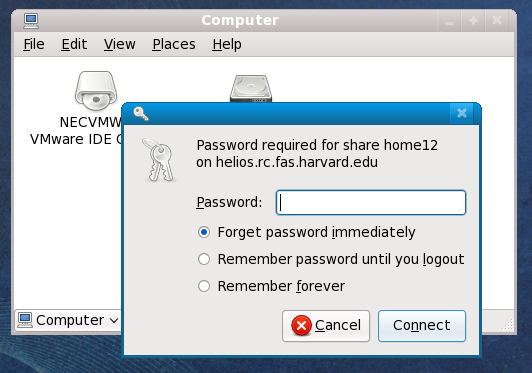 The command line way




As root, use a command sequence similar to the following:
mkdir /mnt/odyssey

mount -t cifs -o workgroup=RC,username=hptc //helios.rc.fas.harvard.edu/home12/hptc /mnt/odyssey
/mnt/odyssey can be any location on the filesystem. This will prompt you for a password. (If this give an error about a read-only filesystem, it could be because you don't have the mount.cifs command installed on your system; install it.) Using this method, you will need to reissue the command every time you boot your computer.