RCNX – A GUI (non-text) method of accessing Odyssey
Welcome to the FAS-IT Research Computing NX Gateway. This page allows you to connect to our NX offerings in a fast and simple manner. Please select your session below to continue.

Access to Odyssey through NX is now through VPN access only. Navigate to the VPN web client. Enter your Odyssey username@odyssey. For password enter your odyssey password followed by your six digit Openauth token..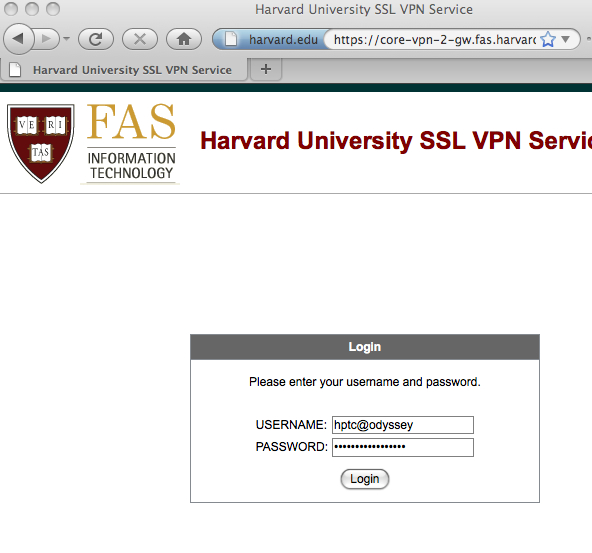 Once you have logged into the VPN, start the NX client on your local computer, and connect to the server iliadnx.rc.fas.harvard.edu (to download the NX client for mac, go here Nomachine Client for Mac. For PC, go here Nomachine Client for PC). Note on mac, you will need to choose Use Nomachine Login instead of the default Use System Login.

If you are a Linux Desktop user, and have a 64bit system, you may encounter issues using this VPN service. The current work around for Ubuntu 64bit Linux systems is: In a Terminal Window:
sudo apt-get install ia32 libs lib32nss mdns 

sudo mkdir -p /usr/local/firefox cd /usr/local/firefox 

sudo ln -s /usr/lib32/libnspr4.so 

sudo ln -s /usr/lib32/libnss3.so 

sudo ln -s /usr/lib32/libplc4.so 

sudo ln -s /usr/lib32/libsmime3.so 

sudo ln -s /usr/lib32/nss/libsoftokn3.so 
After this, you should be able to use the VPN client to establish a secure connection to Odyssey.

---
Pre-Wrapped Cluster Software for NX
Because of the way the NX system works and handles X11 connections/windows, running software that produces X graphics though the batch system will not work as it normally would from a "regular" Odyssey access node with X11 forwarding turned on. To work around this, and provide the ability to use programs such as fully interactive, GUI MatLab vix NX (without running directly on the NX host itself), a number of software wrappers are available. These can be started by simple typing the command in a Terminal Window (some also have icons available in Applications->Cluster-Tools).All of the wrappers start with "startnx_". These all, unless otherwise noted, call the correct modules for you and submit to the interactive queue. The following wrappers are currently available:
startnx_idl: Starts an IDL session in the interactive queue with X forwarding enabled.
startnx_idl_gui: Start a full GUI IDL session in the interactive queue
startnx_ipython: Starts an iPython session in the interactive queue with X forwarding enabled.
startnx_mathematica: Starts a full GUI Mathematica session in the interactive queue
startnx_matlab: Starts a full GUI MATLAB session in the interactive queue
startnx_matlab_general: Starts a non-gui MATLAB session into the queue of your choice, with X forwarding enabled, usage: startnx_matlab_general $queue_name
startnx_matlab_nogui: Starts a non-gui MATLAB session in the interactive queue with X forwarding enabled
startnx_mayavi: Starts a GUI mayavi session in the interactive queue
startnx_pymol: Starts a PyMOL session in the interactive queue
startnx_python: Starts a python session in the interactive queue with X Forwarding enabled
startnx_R: Starts a R session in the interactive queue with X Forwarding enabled.
startnx_stata: Starts a GUI stata session in the interactive queue
startnx_stata_mp: Starts a GUI stata_mp session in the interactive queue
startnx_visit: Starts a GUI visit session in the interactive queue